Recent Events
Upcoming Events
All Guild Screenings
:Calendar
SCL & Jacaranda Music Event: American Crime Concert w/Mark Isham & John Ridley

THE SOCIETY OF COMPOSERS & LYRICISTS and JACARANDA MUSIC
Cordially invite SCL Members and one guest to ABC's
American Crime Concert: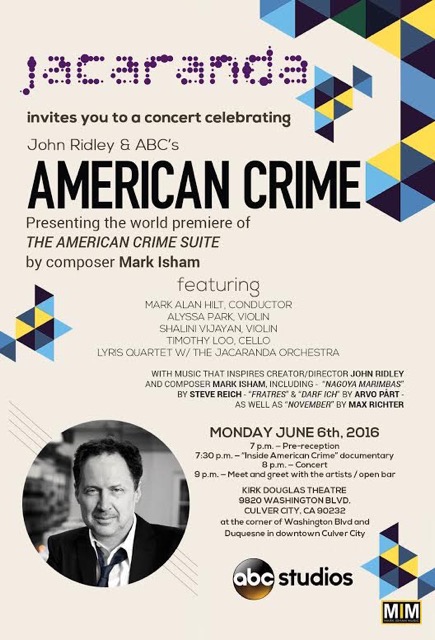 MONDAY, JUNE 6th, 2016

7:00PM – Pre-reception
7:30PM – "Inside American Crime" documentary
8:00PM – Concert
9:00PM – Meet and greet with the artists
The highly acclaimed limited series on ABC is executive produced by Michael J. McDonald and Oscar winner John Ridley (12 Years A Slave), and stars Felicity Huffman and Timothy Hutton. It follows the aftermath of a murder in Modesto, California. War veteran Matt Skokie is killed during a home invasion in which his wife, Gwen, is brutally attacked. The series uses the crime and its subsequent journey through the legal system to explore complex issues, mainly through the lenses of the families impacted by the crime.
RSVP REGISTRATION REQUIRED THRU EVENTBRITE.
Please Click "ATTEND EVENT" Below

RSVPs close 12:00 noon Monday, June 6, or sooner if full.
No changes to your RSVP can be made after that time.
IMPORTANT:
Seating is very limited. If you find you are unable to attend, you must cancel your reservation.

Once capacity is met, you will be placed on a wait list and informed of availability on the day of the event.

This invitation is for current SCL members plus one guest who will stay for BOTH the documentary and concert. Seating is first-come, first-served.

Please allow extra time for traffic, security, and check-in.

Your guest must be with you at check-in, no saving seats.

All attendees must be seventeen (17) years or older.

THIS INVITATION IS NON-TRANSFERABLE

Events are overbooked due to no-shows.
Mark Isham
Award winning composer and SCL Ambassador Mark Isham was sought out by John Ridley to musically capture the emotion of the human stories behind the crime. With the show's themes touching on provocative issues, Isham's score is used to weave together the effects of the murder, from the point of view of the victim's parents, the suspects, and the community at large. The music combines two distinct styles: the first a modern baroque sound using a string chamber and piano, and the other a contemporary electronic, ambient sound. The score is used to give the perspective of multiple characters and ground them in the show's narrative revolving around the central crime.

Isham has created critically-acclaimed scores for over 100 films including "Crash," "42," "Dolphin Tale," "Warrior," "Miracle," "Nell," and "A River Runs Through It," for which he received a Best Original Score Oscar® nomination. In 2013, Isham was lauded with the Distinguished Film Composer Award at the inaugural Middleburg Film Festival along with a concert by the Shenandoah Conservatory Symphony Orchestra of his memorable scores. He also earned a Grammy for his self-titled album Mark Isham. Mark Isham's accolades also include an Emmy award, a Golden Globe nomination and the Henry Mancini award for Career Achievement. Isham currently scores the Emmy nominated series "Once Upon a Time" also on ABC. His recent film project includes the Nicholas Sparks adaptation "The Longest Ride," and has the upcoming Ben Affleck drama, "The Accountant".
John Ridley
Academy Award winner John Ridley is an American screenwriter, film director, novelist, television showrunner and writer best known for "12 Years a Slave", for which he won an Academy Award in 2013 for Best Adapted Screenplay.

After both writing and directing his film debut, the 1997 crime thriller "Cold Around the Heart", he and Oliver Stone co-adapted Ridley's first novel, "Stray Dogs", still unpublished when Stone bought the rights, into the 1997 Stone-directed film "U Turn", which was released slightly earlier than "Cold Around the Heart". Ridley went on to write the novels "Love Is a Racket" and "Everybody Smokes in Hell". His novel "Spoils of War" was adapted into the 1999 David O. Russell-directed "Three Kings", with Ridley's original script being rewritten by Russell and Ridley receiving a "story by" credit negotiated among himself, Russell and the releasing studio, Warner Bros. Ridley then became a writer and a supervising producer on the NBC crime-drama "Third Watch". His other novels are "The Drift", "Those Who Walk in Darkness", "A Conversation with the Mann". His work as screenwriter also includes "Red Tails", and "Undercover Brother".

Ridley is currently helming ABC's newest anthology limited-series, "American Crime" as creator, writer and director. The series has been renewed for a second season which will feature a new storyline and characters. His current film projects include the upcoming reboot of Paramount Pictures' "Ben-Hur" set for release in 2016.
REGISTRATION REQUIRED: Click "ATTEND EVENT" Below
FREE FOR SCL MEMBERS AND ONE GUEST
THE SOCIETY OF COMPOSERS & LYRICISTS (SCL)
is the non-profit premier organization for professional film, television, video game, and musical theater composers and lyricists, and those working in our industry such as orchestrators, arrangers, music supervisors, music agents, music attorneys, music editors, copyists, recording engineers, and related jobs, with a distinguished 65-year history in the fine art of creating music for visual media. Current SCL Members include the top creative professionals whose experience and expertise is focused on many of the creative, technological, legal, newsworthy and pressing issues of the film music, television music, game music, and musical theatre industry today.